CINNAMON SHRIMP CURRY
This Sri Lankan shrimp curry made with Ceylon Cinnamon and tomatoes gives it in incredible savory creamy flavor that will make you keep coming back for more..
Ideally you want prawns to make this dish, which are larger than shrimp and taste much better. The key to this recipe is the complex blend of ingredients that come together to create a fusion of exotic flavors. We all know prawns or shrimp especially on it's own are rather bland so pay attention to the ingredients. Get it right and this is a delicious dish that friends will love.
The Ceylon Cinnamon sticks create the complex blend, the tomatoes adds the savoury juice base, the coconut milk holds it together and the lime at the end adds the finishing touch. The two types of chili, both red and green adds another layer of flavor but the coconut milk tempers it's hotness leaving the flavor intact. The cloves and cardamom pods should be gently crushed with a hammer to bring out it's flavor. The Paprika is a must not only for color but also flavor. You can skip the Fenugreek seeds and Turmeric but perfection is not achieved when you miss ingredients. Go the distance and make it perfect.
We love to serve this with a bowl of plain white rice and green beans sauteed in butter, garlic and pre-fried shallots available from most Chinese stores. So simple yet so elegant. Ask a significant other over for dinner. Preparing the ingredients is a great conversation piece. It gives time for the Wine to sink in and the cooking when you have whetted your appetite is quick and easy.
Ingredients :
16oz (1lb) prawns (Tiger Shrimp)
1 large onion
1 tablespoon crushed garlic
1 tablespoon Tamarind paste
1 green chili, cut in half vertically, seeds removed
1 large tomato
2 clove
2 cardamom seeds
2 tablespoons Vegetable Oil
15 curry leaves
1 tablespoon Lemon grass or ½ stem lemon grass
1 teaspoon chili powder
2 teaspoons paprika
1 three inch Ceylon cinnamon stick
½ teaspoon fenugreek
1 teaspoon salt
½ teaspoon turmeric
5.6 oz. Coconut Milk
1 teaspoon lime juice
1 teaspoon curry powder (Ideally Sri Lankan Curry powder)
1 piece of Cilantro for garnish.

Directions
Wash, remove shell and clean the prawns and then rinse again and let the water drain. If you can see it, remove and discard the vein that runs along right under the surface of the back of the shrimp or prawn, with your fingers or the tip of your knife. If you can't see the vein, don't bother with it


Chop the onion, prepare garlic paste and slice the chile and chop tomatoes into squares. Gently crush the cloves and cardamoms with a hammer or mortar and pestle


First heat the pan for 1 minute and then add the oil. After the oil has heated up (about 2 minutes) add the whole curry leaves, lemon grass, onion, curry powder, garlic and saute for 2 minutes on medium heat stirring frequently.


Next add the Fenugreek seed, Ceylon Cinnamon stick, chili powder and Paprika, Turmeric, salt and saute for another 2 minutes stirring frequently.


Add the prawn or tiger shrimp, mix well and saute the for 3 minutes.


Add the Tomato and let it cook for 3 minutes until the tomatoes soften.


Add the Coconut milk and simmer on medium low heat for 10 minutes.


Finally sprinkle the lime juice, garnish with chopped Cilantro and serve over rice and another vegetable.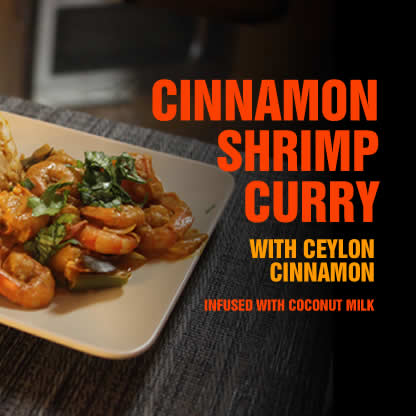 Photo Gallery
Difference between Prawn & Shrimp